Other activities of Cadastre
Faculty members of the Lab have served as officers of International Organizations, such as FIG President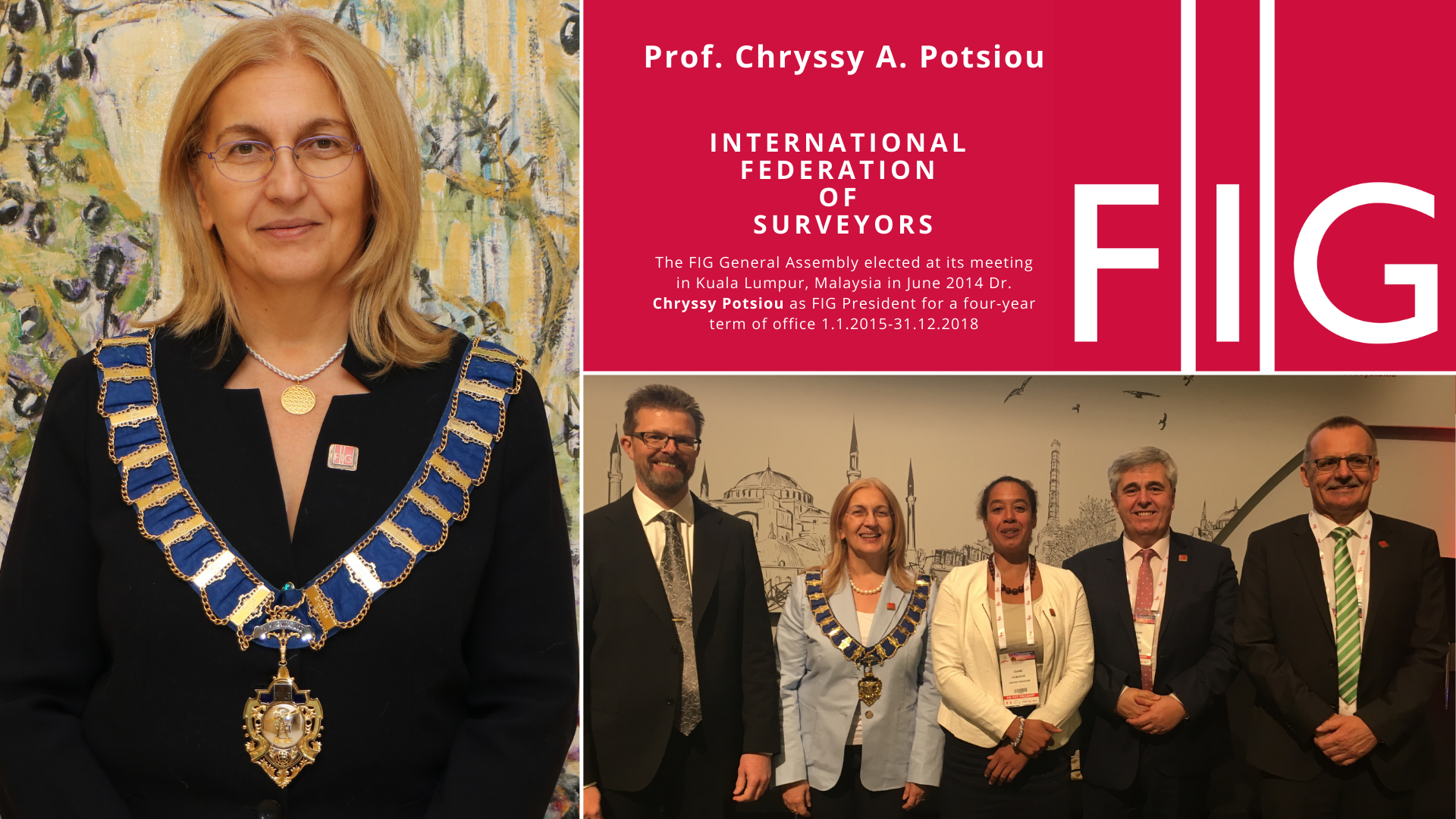 Invited or Keynote speaker:
1. UNECE webinars on RAP 2021, Bishkek webinar March 2021
2. UNECE, Twelfth Session of the Working Party on Land Administration, May 2021
3. Conference of Belgian Surveyors, October 2020, www.BeGeo2020.be
4. CLGE General Assembly, September 2020
5. UNECE/FIG online Workshop, June 2020, Launch of the Guidelines for the Formalizing of Informal Constructions
6. FIG COM3 Annual meeting 2019 and Workshop and Romanian Survey Week, September 2019
7. UNECE Sustainable cities week 2019 and 80th session of the committee of urban development, housing and land management, October 2019
8. UNGGIM, 9th session of UNGGIM and Academic Forum for the launch of the book UN STGs connectivity dilemma, August 2019, New York
9. UNECE, 11 WPLA session, Feb 2019, TCG,fig/uia/wpla/ECCE vision
10. VI Croatian Congress on Cadastre - Land Administration Globalization and Integration and LADM2018, Zagreb, Croatia. Preparing the future of Surveyors and contributing to the Sustainable Development Agenda 2030
11. FIG Congress 2018, Ensuring our Rapid Response to Change Keynote Speech, Istanbul, Turkey.
12. UNECE WPLA Workshop on 'Land Consolidation Legislation', 2018. Tool to Support Small-sized Urban Land Consolidation, Skopje, FYROM.
13. TUFE 2018, High level international interdisciplinary conference Economy, Society and Climate Change The impact of mega trends in the Built Environment, Construction Industry and Real Estate, Athens, Greece.
14. UNWGIC UN World Geospatial Information Congress, Deqing, China, November 2018, invited presentation
15. 10th International Landnet Workshop, Skopje, Regional Consultation on Land Consolidation Legislation, June 2018
16. VI Croatian Congress on Cadastre – Land Administration Globalization and Integration and LADM, April 2018, Zagreb
17. World Bank, "Land and Poverty 2018" Conference, Washington DC, March 2018
18. FIABCI Real Estate Summit in Athens, about our FIG/UNECE work on Formalizing Informal Real Estate, December 2017, Athens, Greece.
19. The International GIS Congress 2017, Adana, November 2017, invited speaker
20. UNECE, 78th session of the UNΕCE Committee on Housing and Land Management and the Ministerial Meeting, November 2017, Geneva
21. FIG Commission 3 Workshop and Annual Meeting 2017 joint to Ordem dos Engenheiros (the Portuguese Engineers Association) and EGoS General Assembly, Lisbon, November 2017.
22. GeoPreVi 2017 and FIG Com7, Com8 and Com9 joint Workshop., Bucharest, September 2017
23. Conference on mobile mapping, Cairo, May 2017, keynote speaker
24. UNECE, 10th session of the Working Party on Land Administration: Land, the 2030 Agenda for Sustainable Development and the New Urban Agenda UNECE WPLA session, Geneva, March 2017
25. High Level Joint FIG / World Bank Conference on 'Sustainable Real Estate Markets Policy Framework and Necessary Reforms', Athens, Sept 2016